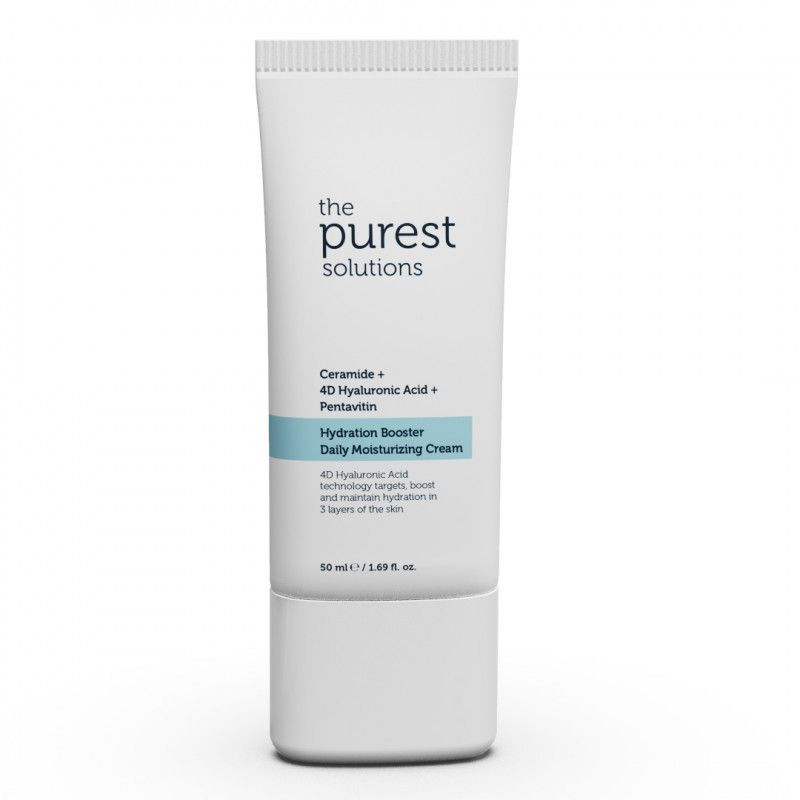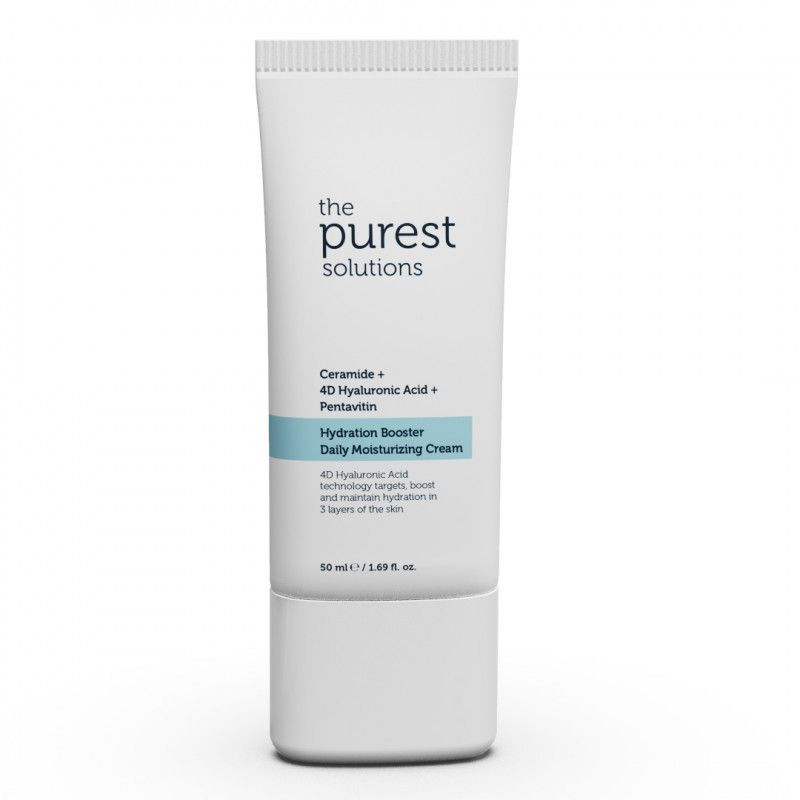 The Purest Solutions Hydration Booster Daily Moisturizing Cream Ceramide + 4D Hyaluronic Acid + Pentavitin 50Ml
---
It is formulated to meet daily hydration needs of the skin with enriching ingredients Pentavitin, Ceramide and 4D Hyaluronic Acid. It provides elasticity and moisture balance to the skin. It helps to strengthen the skin's moisture barrier and aims to minimize the signs of ageing. The skin looks more vibrant, plump and smooth.
Benefits :
Hydration need
All skin types
Anti-ageing need
Anti-stress need
Key Ingredients :
4 types of Hyaluronic Acid: A combination of four types of Sodium Hyaluronate (HA) with different properties, Hyaluronic Acid, accurately target different layers of the skin by creating a three-dimensional network for moisturizing and plumping the skin. In this way, providing multi-dimensional moisturization of the skin, it helps in gaining elasticity.
Shea Butter: Shea butter that is derived from shea nuts is packed with essential fatty acids and vitamins, making it perfect for collagen production and UV protection. Its buttery texture makes it ideal for penetrating the skin. Plus, the natural moisturizers in shea butter are analogous to the sebaceous glands of our skin extract. All this together makes shea a moisturizing miracle for your skin.
Pentavitin: Pentavitin is a plant-derived hydration active that provides instant hydration for up to 72 hours. Pentavitin creates a moisture barrier on the skin after application and binds deep within the layers of skin, holding on tight for up to 72 hours. It helps maintain the skin's natural moisture barrier while smoothing and plumping skin over time. Because the skin is so deeply hydrated after application, the appearance of fine lines is reduced.
Glycerin: Glycerin is a type of moisturizing agent that draws water from the deeper levels of your skin and air into the outer layer of your skin. It aims to provide moisture balance in order to reduce the stress on the skin and prevents UV-induced damage to the skin. It is also a very good anti-ageing agent.
Ceramide: Ceramides help strengthen the outermost layer of skin and provides, a protective barrier that acts as a shield. They bond with different skin lipids and protect skin against transepidermal water loss and this provides healthier and hydrated skin.
Usage :
It is suitable to apply to the whole skin in the morning and evening. You can apply it to cleansed and purified skin with massage movements.